For the past 100 years Goodwill­® has been providing services that meet critical human needs in local communities in the U.S., Canada and 12 other countries.
Because we are widely known and respected as a network of nonprofits that create employment placement, job training and education services through the sales of donated items in Goodwill Store & Donation Centers; we sometimes stand in the line of fire from individuals and organizations who are misinformed and/or misrepresent us in public.
This negative rumor mill continually resurfaces in the form of a now more than ten-year-old email that includes a variation of a message like this: "Think about these before you donate. As you open your pockets to do a good thing and make yourself feel good, please keep these facts in mind…"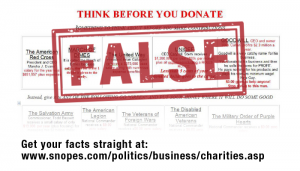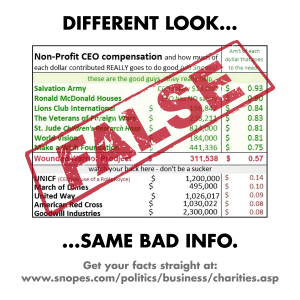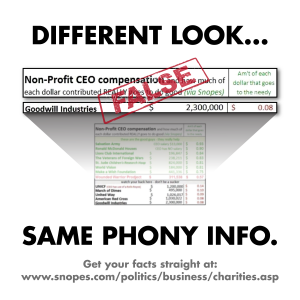 The message then quotes erroneous information and salary figures for several nonprofit organizations' chief executives, including a reference to a so-called "Goodwill CEO and Owner Mark Curran, who profits $2.3 million a year." Steve Preston is the president and CEO of Goodwill Industries International. Learn more Steve Preston.
More than 87 percent of the collective revenue from the sale of donated goods at Goodwill organizations supports and grows our critical community-based programs and services. This is a very healthy number in the nonprofit world according to BBB standards, and a solid indicator of our commitment to good stewardship of your donations.
---