Shawn lives by himself and enjoys the connections he has with his church, watching TV (Knight Rider is his favorite) and daydreaming.
He was introduced and began services in the Comprehensive Community Services (CCS) Program in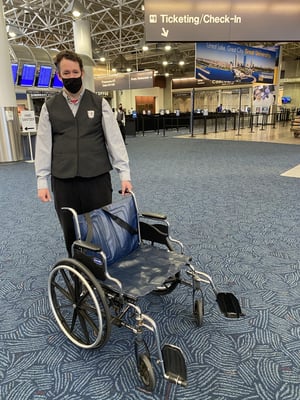 2015. Shawn believed that keeping his mind and body active would assist with stopping "bad habits". He also shared that he would like to earn a few extra dollars.
In August of 2016 his Care Coordinator talked about the idea of employment and he was connected to the IPS program through Goodwill along with the Division of Vocational Rehabilitation.
Shawn's last job was in 1997 when he was employed at a hardware store and he knew he would need assistance to get back in the swing of things. His Individual Placement and Support (IPS) program specialist assisted Shawn with creating a resume and practicing talking with prospective employers.
Shawn's first experiences with IPS and DVR were through the Goodwill Custodial Training program. Shawn was grateful for this chance to learn a new skill and get back to working. Shawn also learned that cleaning wasn't his strongest skill and he requested to explore other opportunities with his IPS Employment Specialist.
Shawn lives on Milwaukee's south side and wished to work closer to home. Shawn is also active with his church. Shawn's IPS Employment Specialist Keith connected Shawn with the volunteer coordinator at his church where he is still volunteering to this day. Through this volunteering experiences, Shawn's confidence grew, and he was ready to look at new opportunities. Shawn applied at a local grocery story and was hired in August of 2018. He worked there until June of 2019. Shawn needed time to focus on himself and strengthen his recovery. With the help of his CCS team, Shawn was able to feel supported and encouraged. Shawn continued to work with his Employment Specialist in IPS and he continued to volunteer at his church.
Shawn had expressed an interest in working at Milwaukee Mitchell International Airport during his time in IPS. He shared that he used to go to the airport and watch the planes take off and land. His IPS Specialist connected Shawn with G2 Secure Staffing at the airport and helped Shawn apply for a wheelchair agent position. Shawn was excited for this opportunity. After practicing for the interview at the airport they met with the manager and he was offered a position. Shawn started working at G2 on December 30, 2019 and is currently employed there. Shawn enjoys helping the passengers off the plane and through the security checkpoints. He enjoys the energy of the airport and helping others. He hopes to continue to work at the airport for years and years.
He expresses that his co-workers are good to him and he receives generous pay for helping and chatting with others. Shawn appreciates having money to pay his bills and rent but also to purchase Little Debbie Treats, which he loves.
When asked what he would tell other job seeker's Shawn's response was "give the process a chance."